Do you want to learn to paint like a professional? Then learn from a professional.
John has been a professional artist and art teacher for over 45 years and taught hundreds of students over the years discover their inner passion for painting.
Whether you are a beginner and needing to unlock your creativity or perhaps an advanced painter looking to improve your skills, John's passion for art and expert guidance is bound to inspire you.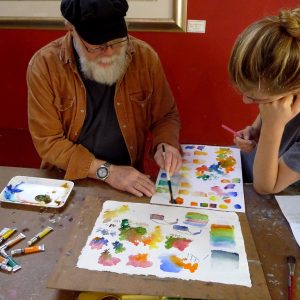 the fundamentals of painting and drawing
the importance of composition, tone, colour and observation
to paint in oils and watercolour
to explore and develop your creativity
These are informative, yet relaxed classes for adults only.
Small class numbers mean that students get the opportunity for one-on-one attention.
Classes are held weekly in Durban North.
Tuesday 9am-12pm  |  Saturday 2pm-4:30pm
"Twelve years of lessons and I am still a student of colour and form. Tuesday morning with John is always challenging, he is an endless source of information. I wouldn't give up my art class for anything."
"I have been with John now for about 6 weeks. My work was regressing but John has helped me to regain confidence and has made me go out of my comfort zone and grow! Thank you so much John."
"My week is looking forward to coming to John's lessons and discovering more about colours and how to learn the different perspectives of painting."